Custom Printed Celebration Tote Bags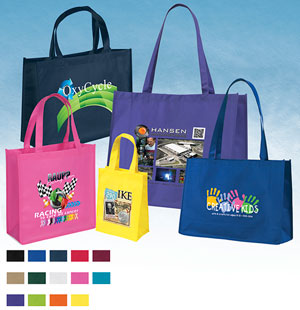 Zoom In
Our Celebration totes are perennial bestsellers, thanks to their affordability and multi-use functionality.
Premium non-woven polypropylene tote with stitched seams, side and bottom gussets and reinforced sewn handles. Optional plastic bottom insert available.
All prices below include 1 color ink imprint on 1 side. 2nd side imprint add $0.50 per bag and second color add $0.50 per bag. $50 screen charge per additional color. FREE proofs.
Call for pricing on other quantities and multi-color imprint.
Freight is additional.
Details and Pricing
| Size | Type | Price | Qty | Total |
| --- | --- | --- | --- | --- |
| 8" x 4" x 10" 12" Handle | Ike | $1.60 | 250 | $400.00 |
| 8" x 4" x 10" 12" Handle | Ike | $1.30 | 500 | $650.00 |
| 13" x 5" x 13" 18" Handle | Abe | $1.80 | 250 | $450.00 |
| 13" x 5" x 13" 18" Handle | Abe | $1.50 | 500 | $750.00 |
| 16" x 6" x 12" 28" Handle | Franklin | $1.85 | 250 | $465.50 |
| 16" x 6" x 12" 28" Handle | Franklin | $1.55 | 500 | $775.00 |
| 20" x 6" x 16" 28" Handle | George | $2.10 | 250 | $525.00 |
| 20" x 6" x 16" 28" Handle | George | $1.80 | 500 | $900.00 |