Custom Printed Frosted Plastic Shopping Bags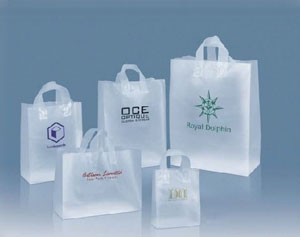 Zoom In
Hi-density frosted plastic bags with fused loop or die cut handles and cardboard bottom insert.
All bags are available plain or printed with your logo!
All prices below include 1 color ink imprint on 1 side. 2nd side imprint add $.35 per bag. $60 plate charge. FREE proofs. Call for pricing on other quantities, sizes and foil stamping options.
Freight is additional.
Details and Pricing
| Size | Price | Qty | Total |
| --- | --- | --- | --- |
| Size | Price | Qty | Total |
| 8" x 4" x 10" | $0.70 | 500 | $350.00 |
| 8" x 4" x 10" | $0.60 | 1000 | $600.00 |
| 10" x 5" x 13" | $0.78 | 500 | $390.00 |
| 10" x 5" x 13" | $0.68 | 1000 | $680.00 |
| 13" x 16" x 17" | $0.84 | 500 | $420.00 |
| 13" x 16" x 17" | $0.74 | 1000 | $740.00 |
| 16" x 6" x 12" | $0.84 | 500 | $420.00 |
| 16" x 6" x 12" | $0.74 | 1000 | $740.00 |
| 16" x 6" x 19" | $0.92 | 500 | $460.00 |
| 16" x 6" x 19" | $0.82 | 1000 | $820.00 |