Custom Printed Die-Cut Plastic Shopping Bags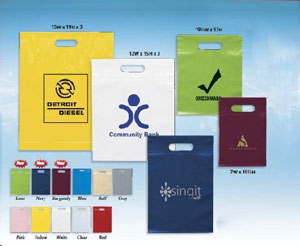 Zoom In
2.5 mil. plastic bags with reinforced die cut handles and bottom gusset on select sizes.
All bags are available plain or printed with your logo!
All prices below include 1 color ink imprint on 1 side. 2nd side imprint add $.35 per bag and second color add $.25 per bag. $60 plate charge per color. FREE proofs. Call for pricing on other quantities and sizes.
Freight is additional.
Details and Pricing
| Size | Price | Qty | Total |
| --- | --- | --- | --- |
| 7" x 10" | $0.52 | 500 | $260.00 |
| 7" x 10" | $0.42 | 1000 | $420.00 |
| 9.5" x 12" | $0.53 | 500 | $265.00 |
| 9.5" x 12" | $0.43 | 1000 | $430.00 |
| 9.5" x 14" | $0.54 | 500 | $270.00 |
| 9.5" x 14" | $0.44 | 1000 | $440.00 |
| 12" x 15" x 3" | $0.66 | 500 | $330.00 |
| 12" x 15" x 3" | $0.56 | 1000 | $560.00 |
| 15" x 19" x 3" | $0.78 | 500 | $390.00 |
| 15" x 19" x 3" | $0.68 | 1000 | $680.00 |