Custom Printed Matte Eurotote Shopping Bags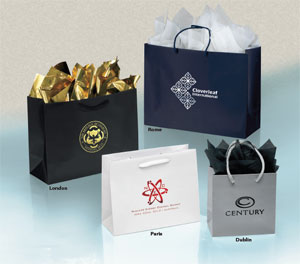 Zoom In
Matte laminated heavy weight recyclable and reusable paper shopper with matching macramé handles, reinforced fold over top and cardboard bottom insert.
All bags are available plain or foil stamped with your logo!
All prices below include 1 color foil stamp on 1 side. 2nd side foil stamp add $.45 per bag and second color add $.25 per bag. $80 plate charge per color. FREE proofs. Call for pricing on other quantities and sizes.
Freight is additional.
Details and Pricing
| Size | Price | Qty | Total |
| --- | --- | --- | --- |
| 6.5" x 3.5" x 6.5" | $1.28 | 500 | $640.00 |
| 6.5" x 3.5" x 6.5" | $1.16 | 1000 | $1160.00 |
| 10" x 4" x 8" | $1.30 | 500 | $650.00 |
| 10" x 4" x 8" | $1.19 | 1000 | $1190.00 |
| 13" x 5" x 10" | $1.58 | 500 | $790.00 |
| 13" x 5" x 10" | $1.46 | 1000 | $1460.00 |
| 16" x 6" x 12" | $1.66 | 500 | $830.00 |
| 16" x 6" x 12" | $1.58 | 1000 | $1580.00 |